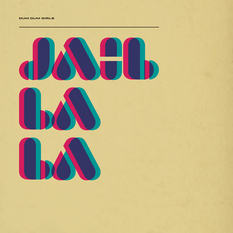 Just caught The Dum Dum Girls Sunday night, and amazingly the 4 way Art Fag split was at their merch table, I actually ordered this from a couple of places and they were sold out, so that was a nice surprise to see those still available. This Jail La La single was there too, but I figured there's going to be plenty to go around, maybe I'll combine this with all the pavement LP's they reissued at super discount prices. Can't wait to hear the Pens on that split, looking forward to a full length from them this year, maybe.
They've been accused of not putting on the best show, not really moving maybe being a little apathetic towards the whole thing, but if you're into this fuzzed out chorus reverb drenched sound then you'll be satisfied. They have a pretty specific look, in all black puffy sleeve prom dresses, sort of like Heart, almost hair metal 80's, a little goth, a little bad ass...combined with the sweet harmony it's a little weird, in a god way. Dee Dee has a voice that brought me right back to Siouxie Sioux, she can belt it, the
subversive dark content. How did the west coast inspire a darker Vivian Girls? Frankie Rose is great, her trademark drum style has been making it's way through everything that's good the past few years. I don't know how much longevity the Vivian Girls or Crystal Stilts will have, how that sound is going to evolve, but she's been there from the beginning...it's impressive.
Jail La La, is a lot more produced than the captured tracks EP, or Hozac single, it's clear, Frankie's drums sound loud and flat, she's a metronome, I swear at the show she had one stick in her left hand with sleighbells attached to it or something. It's not on this track....and Dee Dee is playing with that sweet sound singing about sitting a shitty jail, with a la, la chorus. Not so much layers of echo here, it's getting closer to that girl group 60's sound. The seemingly upbeat song about unpleasantness. It's a good combo. There's a stones cover on the B-Side, which they played live and I didn't even recognize until the chorus. It's slowed way down, and she makes it her own...plus it's perfectly suited for their style...they're coming from that classic place, looking ahead.
"Jail La La" for the forthcoming I Will Be, available March 30th in LP, CD and digital formats. The B-side is a cover of "Play With Fire" by The Rolling Stones. Mixed by Alonzo Vargas and Richard Gottehrer.
Get it from Sub Pop.