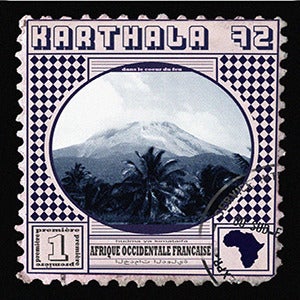 Got a new one from the prolific
Electric Cowbell Records
, from this
somewhat mysterious band
Karthala 72
, from the look of that
site
and their
facebook page
I'd gather this isn't some kind of reissue, but a pitch perfect homage to what I imagine were some of the '70s psych and groove reworkings going on in Africa. That combination of raw funk grooves and polyrhythmic percussion is all captured here, in perfect fidelity.
A-Sides, "Dans le coeur du feu" has a haunting opening...electric free form jam seriously delayed over a completely tribal congo rhythm. Handclaps and punctuating spontaneous yelling vocal off in the distance, seemingly captured haphazardly by the mics. They didnt mean to leave that in there...or did they? There's a kind of synth laser hit in the middle of this under a sine wave bass tone grooving away, sounding a little bit modern this flashback hipster lounge... a really great instrumental. More ultra delayed yip and youl from the vocal section that they're using really like another instrument. No one is telling any kind of narrative story here just getting into the freaky groove. Somehow a modern psych sound, with a hint of danger, a sort of unsettling sci-fi edge. Here's this fictional culture that skipped a lot of the real destructive turns and evolved with nature? What am I painting some kind of psych-avatar alternate universe music scenario? No. It's just a big synth feel to this '70s rhythm, almost like the sound of that future that never really happened.
"Delores" on the B-Side, has a crazy layered rhythm made up of an insane array of instruments, I mean it's like these guys could actually be working with 2 or 3 drum machines in a real interesting way, shakers and ...forget it, I have no idea all the sounds happening here. I can pick out this slow distortied guitar and all kinds of tuned toms, the flexible heads pushed down to get that high pinging edge. It's an exercise in all drums, even a little bit blown out, just on the edge of the red. Kicks hitting real slow and that background chorus of guys yelling out of the chaos of ordered pummeling. Chimes and some kind of bass rhythm, sort of 4-track sounding in the way that you really spend time with the layers or managing to get every single person you know together at once, building this track quietly and slowy over weeks.
Download the A-Side track
here
via Press Junkie PR, and pick it up at the old Electric Cowbell. What do your seven inches need? More Electric Cowbell.
Christopher Walken said so.
The sound of a 1970′s psychedelic freakout only heavier than you ever heard it before! The A-side, "Dans Le Coeur Du Feu," brings some seriously dark, driving funk meets Afrobeat. There isn't much on the group out their on the internet. We can't even figure out exactly where they are from but tribal rhythms and hypnotic guitar echo to a time when the raw sound was king. The B-side-Delores-mellows the attack a bit but retains the afro-noir vibe and keeps the pulsing percussion mix up front. Haunting glockenspiel and portentous guitar are balanced by a buoyant sax line that snakes its way into the song at the halfway mark. Taking influence from the traditional music of the Comoros, to Anatolian bazaar jazz to the more familiar beat of percussion led afro funk. This single is destined to become a psych-world burner. Comes in medium weight 7″ brown paper sleeve with full-color vintage postage stamp sticker of the group on the sleeve.